This DIY pallet bar is simple to make, and it's a great addition to your patio this year! Let me show you how to build it.
Last summer I built this simple DIY pallet bar and it was extremely easy to make and cost me $0 dollars. We used it all summer and through the Fall for holding our snacks and drinks in the backyard and beside our firepit. I love it so much that I knew I needed to show you how you could build one too!
Today's blog post is in collaboration with some of my favourite blogging friends. After you check out my patio idea, make sure to visit their Spring patio and porch ideas linked at the bottom of this post.
Here's how to make an easy tiered herb planter with dollar store buckets:
To begin, find a pallet that is about the height and width you'd like your outdoor bar to be. I was lucky and had this one in our backyard from when we had some flooring delivered. Give your pallet a good cleaning with a pressure washer.
Next, cut a 2x4 piece of lumber into 3 6" long pieces, and a 2x6 piece of lumber into two pieces that are the same width as the top of your pallet. I used a mitre saw for this.
Now, stand your pallet upright and position the 2x4 pieces evenly at the bottom of your pallet to create feet. Screw them into the bottom of the pallet with long deck screws and a drill.
Position the two 2x6 pieces of wood at the top of your pallet and screw those in place with deck screws. This will create a narrow bar top.
Then, sand your bar with a power sander or a sanding sponge. You can sand it as much or as little as you'd like to create the look you want. I wanted my bar to be rustic looking, so I didn't sand it too much.
Finally, choose a finishing treatment for your bar. I chose to create a whitewash solution with 1 part white paint to 1 part water. I applied that to the entire bar with a paintbrush, and then wiped it off immediately with a rag to create a translucent white finish.
Now, you can set your DIY pallet bar on your patio and enjoy it this Spring and Summer! Here, I've decorated it with LED lights, and used it on our back patio for poolside snacks and drinks.
Now it's time for more Spring patio and porch ideas from my blogging friends
10 Gorgeous Patio Decor Ideas

How To Create An Outdoor Living Space // Modern Glam
Simple Garden Flower Arrangement // Happy Happy Nester
How to Ready Your Porch for Spring // Twelve On Main
Hanging Basket DIY // Finding Lovely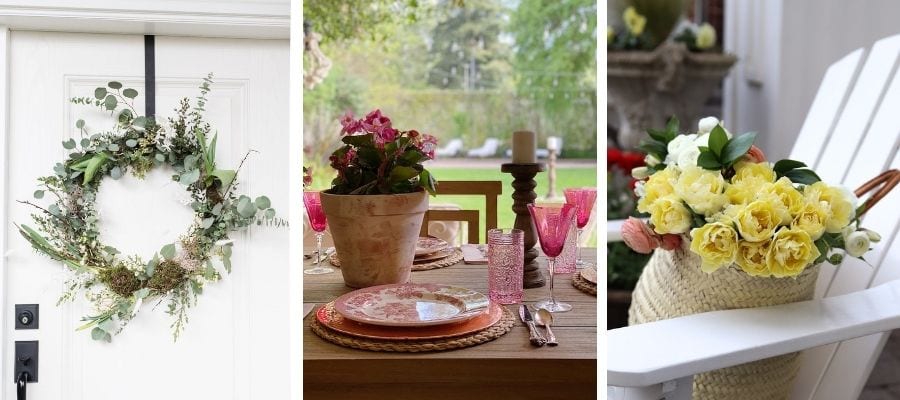 How to Refresh Your Front Door for Spring // Life Is Better At Home
How to Decorate Your Back Porch for Spring // My 100 Year Old Home
10+ Inspiring Front Porch Decorating Ideas // Lemon Grove Lane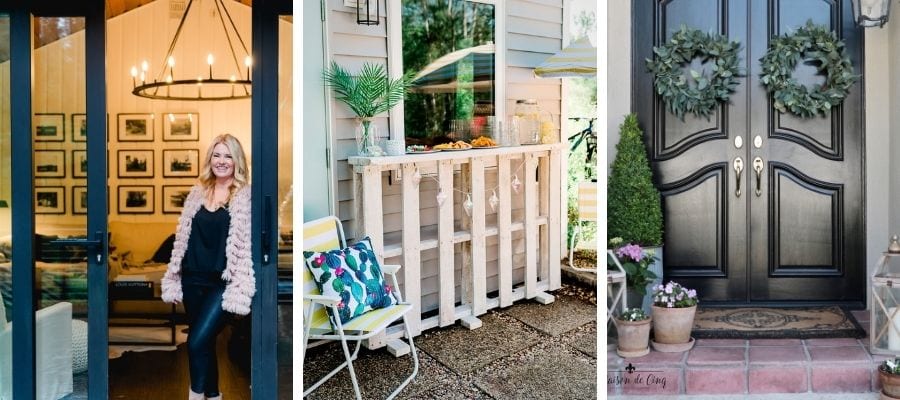 How I Decorate Our Deck For Function and Beauty // My Sweet Savannah
How to Build an Easy DIY Pallet Bar // The DIY Mommy
How to Decorate a Spring Front Porch // Maison De Cinq