Happy Friday, friends! Today I want to give you a closer look at our Christmas tree this year, plus show you how to decorate your own rustic glam farmhouse style tree. You'll also find lots more Christmas tree decorating ideas at the bottom of this post from my blogging friends - there's something for every style!
It took my a while to sort out our tree's "style" this year. However, once I dressed it in some flowing burlap ribbon (you can see my Christmas tree ribbon tutorial here), I knew the look was going to be "rustic glam".
The burlap ribbon & natural wood-look ornaments give this Christmas tree its glam feel while the pastel colours, golds and sparkling picks make it feel glamourous.
To create a rustic glam farmhouse tree like this, start with the burlap wired ribbon. You can follow my tree ribbon tutorial here. Next place glittery ornaments in blush pink and golden tones near the middle of the tree. Push them inside the tree to add some depth to your design & secure them with pipe cleaners or ribbon.
Next, start hanging ornaments off of the tips of your tree's branches. I like to add mine in colour groups so that all of the colours are evenly spaced. Here, I used gold & brass ornaments, blush pink ornaments and aqua ornaments.
Finally add some glittery, frosty cedar or pine picks to any holes in the tree and top it with a faux mercury glass star. It's a soft and beautiful tree!
Here are some similar decorations to the ones I've used on my tree:
Wired Burlap Ribbon | Wood, Blush & Metallic Ornaments from Kat + Annie | Aqua Ornaments | Frosted Pine Picks |
Faux Mercury Glass Star Topper
Now, come have a look at dozens of other Christmas trees from my blogging friends for the My Home Style Blog Hop Christmas Tree Edition hosted by Casa Watkins Living: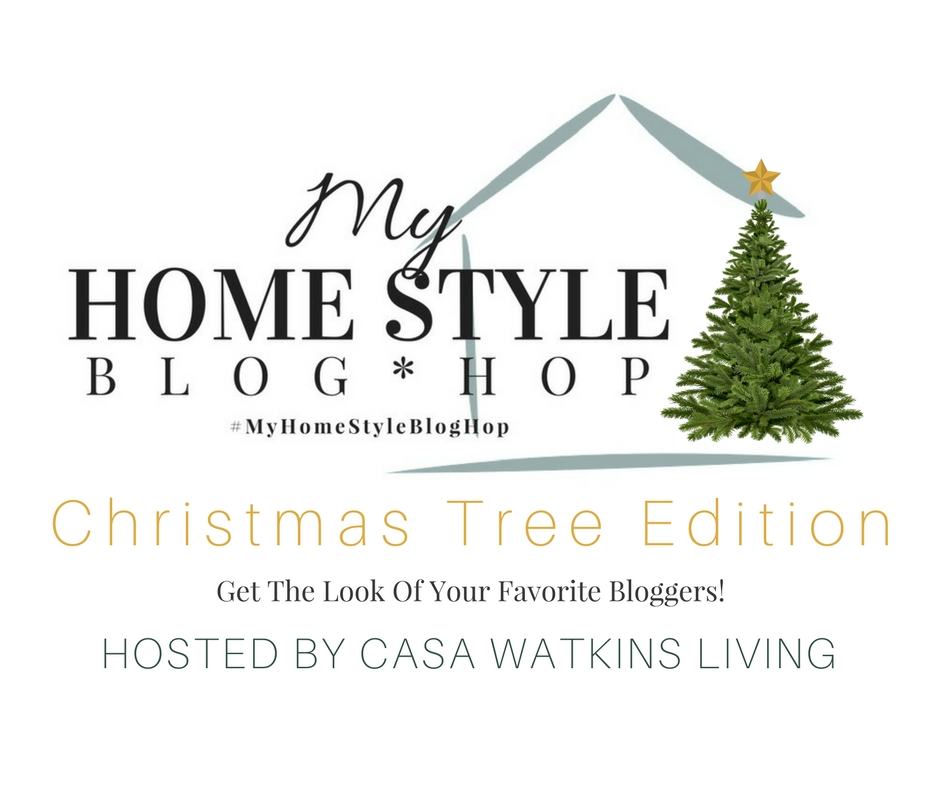 Monday
Tuesday
Wednesday
Thursday
Friday
Disclaimer: This post contains affiliate links. If you purchase a product using these links, I'll get a small commission at no extra cost to you.