Mini Christmas Wreath From Thrifted Sheet Music
This post may contain affiliate links · This blog generates income via ads
Vintage sheet music can be used for so many beautiful DIY projects. Today, let me show you how to make a mini Christmas wreath from thrifted sheet music. It's a simple craft that will be a lovely addition to your Christmas decor or gift wrapping.
This blog post is part of a seasonal blog hop. Make sure to check out all of the other DIY Christmas wreath ideas from my blogging friends linked at the bottom of this post!
When browsing my local thrift store, I came across an old book of clarinet sheet music. I thought I could use the sheets inside for some fun Christmas DIYs! This wreath turned out wonderfully, so I wanted to share it with you today.
To begin, tear the pages out of your vintage sheet music book and cut each page into 8 pieces. To do this, I folded my sheet music page in half, then in half again, and then in half a final time and cut along the folds.
Next, roll each rectangular piece into a cone shape as pictured above.
Then, glue the cones onto a small wood round or round cork trivet with a hot glue gun. You can begin by gluing two cones opposite eachother, and then another two at 90 degrees from the first two.
Then, fill the remaining holes with more sheet paper cones.
Finally, you can choose to leave your mini wreath as-is, or embellish it. I added some dried oranges, faux cranberry stems and faux cedar stems to the center of my wreath with hot glue. 
These make beautiful gift toppers, or you can add a Command hanging strip to the back and hang them on your wall or door as decor. Happy DIYing!
Pin Me!
9 Festive Holiday Wreath DIY Ideas
Silver Christmas Wreath DIY // Happy Happy Nester
How To Make A Simple Foraged Wreath // Most Lovely Things
Beechnut Husk Holiday Wreath // Finding Lovely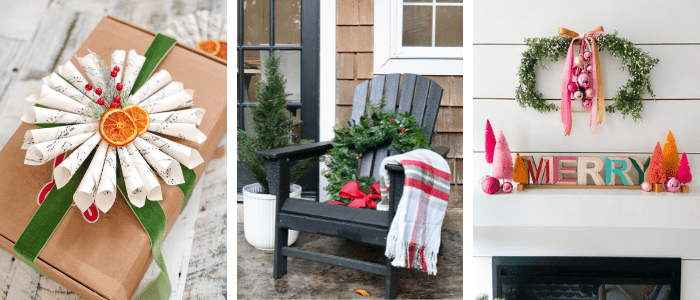 Mini Christmas Wreath From Thrifted Sheet Music // The DIY Mommy
Holiday Wreath Hack // My Sweet Savannah
Embroidery Hoop Hanging Ornament Wreath // Tatertots & Jello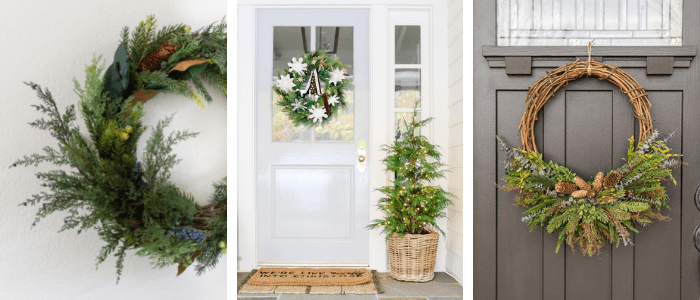 DIY Asymmetrical Christmas Wreath // Zevy Joy
Scandinavian Christmas Wreath With Paper Snowflakes // Modern Glam
A Gorgeous Winter Wreath Tutorial // Twelve On Main