How to make Pumpkin Pie from Scratch (with Step by Step Instructions)
This post may contain affiliate links · This blog generates income via ads
Do you know how to make pumpkin pie from scratch? It sounds intimidating, but it's actually straight forward and a lot of fun. Here's my favourite fresh pumpkin pie recipe!
This blog post is part of a seasonal blog hop. Make sure to check out all of the other Fall recipes from my blogging friends linked at the bottom of this post!
Pumpkin Pie with Fresh Pumpkin vs Canned Pumpkin
I think that ANY pumpkin pie is a good pumpkin pie, but there are definitely differences between pumpkin pie made with fresh pumpkin and pie made with can pumpkin. The pies from scratch tend to taste milder and the consistency is often denser. Both taste delicious, so if you're short on time use pumpkin puree in a can. If you have fresh pumpkins for baking, try making a pie from scratch!
Pie Crust Recipe
The first step to making a pumpkin pie is to make the pastry for the crust. It's always a good idea to make extra pie crust and freeze some for later. That's what I usually do when I'm making pie because I find creating the crust to be time consuming. Here's my favourite pie crust recipe (I usually double it and roll & freeze two pie crusts for later):
Best Pie Crust Recipe
Yield:
2 single pie crusts or 1 double crust
This pie crust recipe makes my favourite, flaky pie crust that can be used for pumpkin pie, apple pie, rhubarb pie and even a savoury meat pie. Double this recipe and save extra pastry for later.
Ingredients
1 1/2 cups flour
1 tsp salt
1/2 cup pure lard (I use Tenderflake brand)
1/4 cup cold water
Instructions
To begin, mix the flour and salt in a medium bowl.
Cut in lard, using a pastry blender or criss-crossed knives until you achieve a crumb-like texture (it doesn't hurt to blend the mixture a lot at this stage).
Next, our in cold water one Tbsp at a time and mix very lightly with a fork until the pastry pulls from the side of the bowl. Don't over-mix once you've added water! This is one of the secrets to a flaky crust.
Finally, roll the pastry gently in a ball, cover in plastic wrap, and place in the fridge to chill while you make your desired filling.
Making the Pumpkin Puree
It may sound intimidating to create puree from a whole pumpkin, but it's actually a lot of fun! I like to make extra puree, freeze it, and use it in other recipes throughout the season. To make the pumpkin puree, first cut a pumpkin in eighths and scoop out the seeds with a canning lid:
Then, simply place the pumpkin sections on a baking sheet lined with parchment paper and bake them at 400 F for about an hour. After the pumpkin has baked and it's soft, gently peel away the skin with a fork:
Finally, you can use a stand mixer to mix the pumpkin pieces into a smooth puree. So easy!
Making the Fresh Pumpkin Pie Filling
You can make extra filling to freeze for later, or create & freeze extra pumpkin puree to use in soups, drinks and more.
Fresh Pumpkin Pie Filling Recipe
This pumpkin pie recipe uses fresh pumpkins for a delicious, hearty flavour that can't be beat! It's also spiced just right. Serve with whipped cream or ice cream for Thanksgiving or any special occasion.
Ingredients
1 large sugar, Cinderella, or Jarahdale pumpkin (enough to create 4 cups pumpkin puree)
2 (12 fluid ounce) cans evaporated milk
4 eggs, beaten
1 1/2 cup packed dark brown sugar
1 tsp ground cinnamon
1 tsp ground ginger
1 tsp ground nutmeg
1/2 tsp ground allspice
1/4 tsp ground cloves
1 teaspoon salt
Instructions
Cut the pumpkin into eighths and scrape out the seeds with a canning lid.
Next, place the pumpkin on a baking sheet lined with parchment paper and bake at 400 F for 1 hour, or until soft.
After baking, gently remove the pumpkin skin from the flesh with a fork.
Blend the baked pumpkin with a stand mixer until it's smooth.
Measure out 4 cups of the puree and save any excess for future recipes (I like to put mine in zipped plastic bags and freeze it).
In a large bowl in the stand mixer, beat pumpkin puree with evaporated milk, eggs, brown sugar, cinnamon, ginger, nutmeg and salt.
Roll out pie crust (see my other pie crust recipe), place it in pie plates, fold and flute the edges.
Next, divide and pour the pumpkin mixture into the prepared crusts.
Bake 40 minutes at 400 F or until a toothpick inserted in the center comes out clean.
Notes
To prevent the crust from burning, wrap it in tin foil about halfway through baking.
Pumpkin Pie Spice Recipe
To save more time, you can even prepare a mixture of pumpkin pie spice in advance. Then, you'll have it on hand for this recipe and others that you may want to make throughout the Fall and winter months. Find my easy DIY pumpkin pie spice recipe right here.
If you're using pre-made pumpkin pie spice instead of the individual spices in the above recipe, use 1 1/2 Tablespoons.
Extra Tips & Tricks
If you don't want your pie crust edge to burn, wrap aluminum foil around the edge of the crust midway through baking.
If you want to save time later, double the pie crust recipe. Then, divide the pastry into single servings, roll it into balls, cover it in plastic wrap and freeze for later. When you're ready to make a pie again, simply take a frozen crust out a few hours beforehand and let it thaw on the counter.
Similarly, you can also create extra pumpkin puree and freeze it for later. If you have pumpkins that might be going bad, this is a great way to not let them go to waste! I create my puree, measure it out into 2 cup portions, place it in zipped plastic bags and freeze it.
To prevent your pumpkin pie from getting cracks in the top, make sure not to overbake it.
Homemade pie crust is great if you have the time to make it, but you can also substitute it with ready-made crust.
Finally, don't be afraid to substitute the homemade pumpkin puree with canned pumpkin puree to make this recipe quicker!
Now it's time for more Fall recipe from my blogging friends!
Click on the links below to visit the blog posts with the recipe ideas.
13 Fabulous Fall Baking Recipes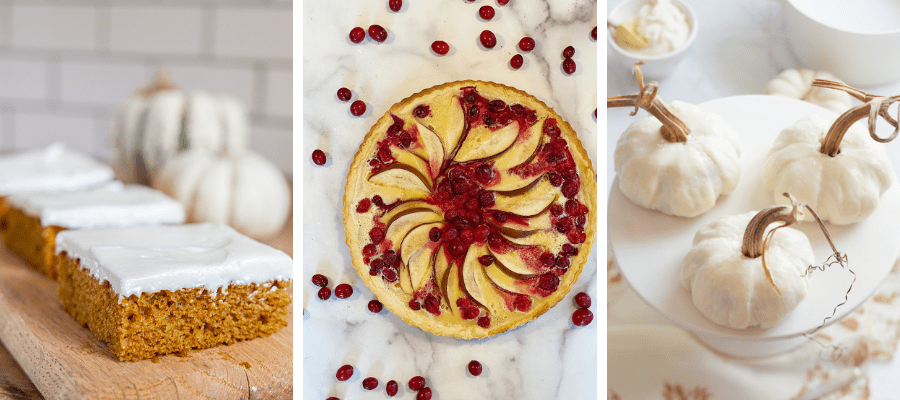 The Most Amazing Pumpkin Sheet Cake – Twelve on Main
Fall Pear and Cranberry Tart – My 100 Year Old Home
Mini Pumpkin Bundt Cakes – Happy Happy Nester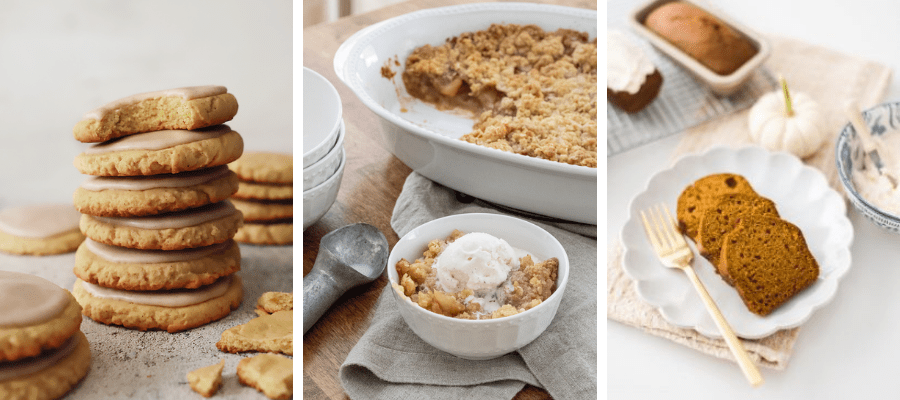 Soft Pumpkin Spice Cookies – Paint Me Pink
Old Fashioned Apple Crumble – Sincerely, Marie
Mini Pumpkin Spice Loaves with Cream Cheese Icing – Life Is Better At Home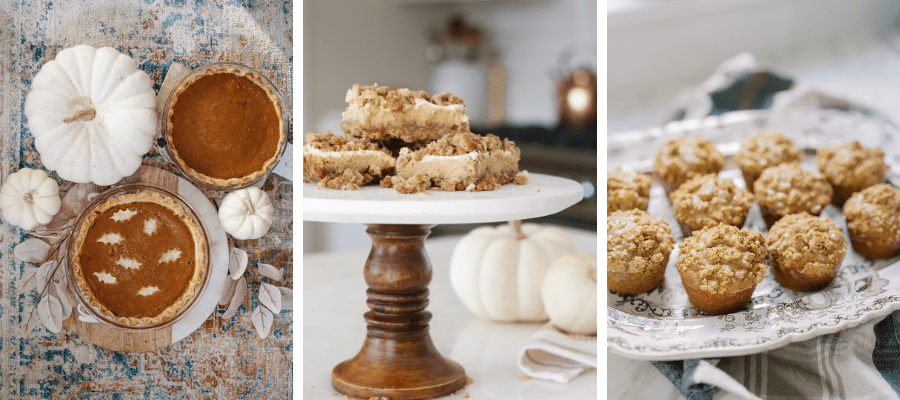 How To Make Pumpkin Pie From Scratch – The DIY Mommy
Pumpkin Cheesecake Crumble Bars – Maison De Cinq
Maple Crumble Muffins with Maple Butter Glaze – Finding Lovely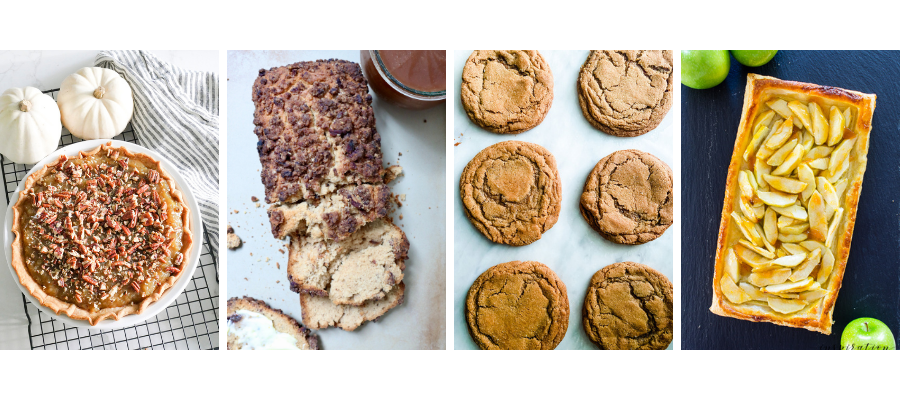 Decadent Coconut Pecan German Chocolate Pie – Grace In My Space
Apple Butter Pecan Loaf – My Sweet Savannah
Chewy Molasses Cookies – Most Lovely Things
Easy Fall Apple Tart – inspiration For Moms