How to Make Easy, Mild Gingerbread Cookies (no molasses!)
This post may contain affiliate links · This blog generates income via ads
These mild Gingerbread Cookies are soft, chewy, and lightly spiced—and have no molasses! They're fantastic with a cup of tea!
This blog post is part of a seasonal blog hop. Make sure to check out all of the other Christmas cookie recipes from my blogging friends linked at the bottom of this post!
Don't get me wrong – I love molasses and a ton of spice in my gingerbread cookies, but sometimes I want something milder. Plus, I know a lot of kids who appreciate a more subtle gingerbread flavour in their cookies too. If you want gingerbread, but don't have molasses on hand (or want a milder tasting flavor!), this delicious recipe is for you.
I used a cookie stamp to create the beautiful pattern on these cookies, but this is also a great recipe for making cutout cookies with cookie cutters. With no baking soda or baking powder it doesn't expand, so it will maintain its shape perfectly with nice, crisp edges. Perfect for gingerbread men cookies!
You might want to make 2 or 3 batches of these cookies because they freeze beautifully. They're a great cookie to bake ahead of time.
I've tried a LOT of gingerbread cookie recipes, and this one is definitely a new favourite. It's the perfect marriage of a sugar cookie and a gingerbread cookie with its softness, sweetness and subtle spice. It has a pillowy texture, and it's perfect for decorating any way you like.
Inspiration
This cookie recipe is inspired by this Stamped Brown Butter Muscovado Cookies recipe from Alexandra Cooks. I used her recipe as a base, but simplified it by not browning the butter. I also use a simplified glaze recipe and found chilling the cookies before baking wasn't necessary for me. In addition, I used a couple less spices and a little less salt so that I could use salted butter (my favourite).
Ready to make and enjoy these delicious mild gingerbread cookies? Here's the recipe!
How to Make Easy, Mild Gingerbread Cookies (no molasses!)
Yield:
2 1/2 dozen cookies
Total Time:
1 hour
24 minutes
These Gingerbread Cookies are soft, chewy, and lightly spiced—and have no molasses! They're fantastic with a cup of tea!
Ingredients
1 1/3 cup salted butter at room temperature
1 cup dark brown sugar
1/2 cup granulated sugar
2 eggs
1 tablespoon vanilla extract
4 cups flour
2 tsp ground cinnamon
1 tsp ground cloves
1 tsp ground ginger
1/2 tsp salt
1 cup icing sugar
2 Tbsp milk
1 teaspoon vanilla extract
Instructions
In a large bowl, combine the butter and sugars.
Add the eggs and vanilla extract, and combine.
In a separate bowl, mix together the flour, cinnamon, ground cloves, ground ginger and salt.
Pour the dry ingredients into the wet ingredients and mix until combined.
Roll the dough into a ball, cover with plastic wrap and refrigerate for at least 1 hour.
Preheat the oven to 375 F.
Roll the dough out with a rolling pin until it's 1/4 thick and cut with cookie cutters OR roll the dough into 1" balls and stamp the balls down firmly with a cookie stamp. Remove any excess dough around the stamped cookie with your hands or a knife.
Save any dough scraps to roll out / stamp again and make more cookies until all the dough is used.
Place the cookies on a baking sheet lined with parchment paper and bake for 9 minutes or until the edges are a golden brown.
While the cookies are cooling, make the glaze by whisking together the icing sugar, milk and vanilla extract in a shallow bowl.
Once the cookies are cool, dip them top-down in the glaze, shake off any excess, and let them dry on a wire rack.
You can decorate the cookies with sprinkles or candies before they dry.
Store these in an airtight container for up to a week, or these freeze beautifully for several weeks. If frozen, let them thaw for about 1 hour before serving.
Notes
You can mix these by hand with a wooden spoon, or use a stand mixer with the whisk attachment at medium speed for the wet ingredients. Use the paddle attachment on a low speed for the dry ingredients and when incorporating both.
More Christmas cookie recipes
14 Christmas Cookie Recipes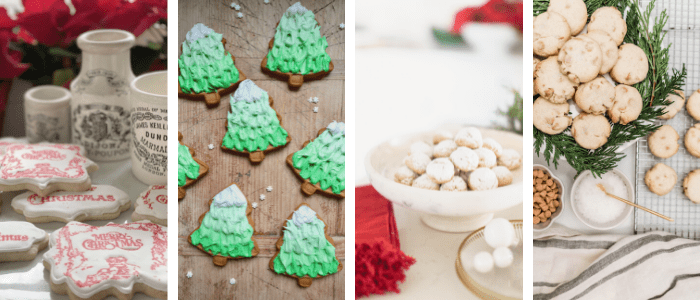 Classic Sugar Cookies For Christmas // My 100 Year Old Home
Christmas Cookie Hack // My Sweet Savannah
Mexican Christmas Cookies // Just Destiny
Salted Butterscotch Shortbread // Life Is Better At Home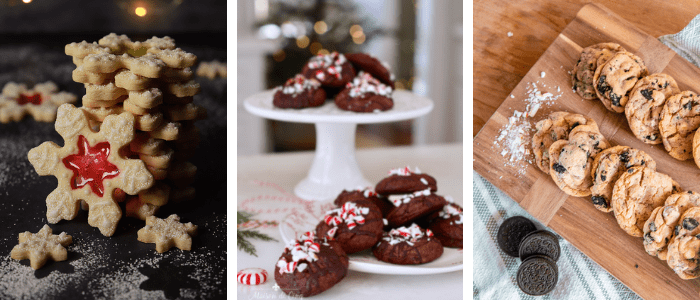 Stained Glass Sugar Cookies // Paint Me Pink
Chocolate Peppermint Crunch Cookies // Maison de Cinq
The Yummiest Oreo Cookies and Cream Cookies // Twelve On Main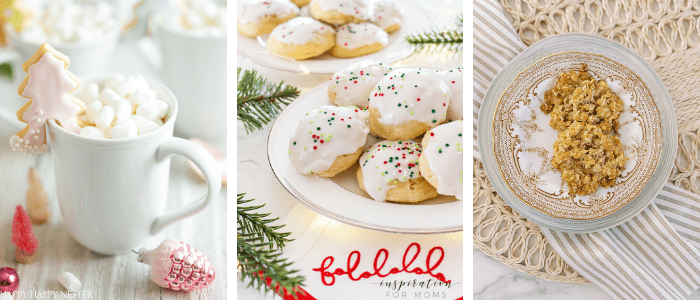 Hanging Mug Topper Cookies // Happy Happy Nester
Italian Christmas Cookies // Inspiration For Moms
Anzac Biscuit Cookies // Finding Lovely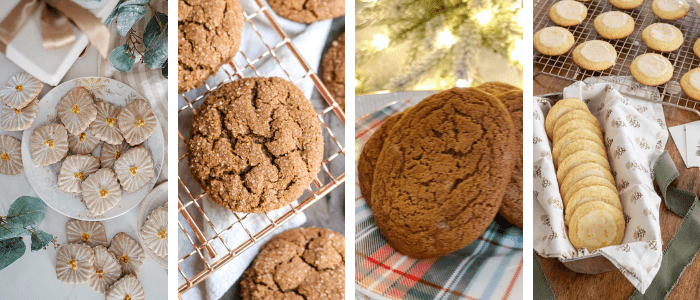 How to Make Easy, Mild Gingerbread Cookies (no molasses!) // The DIY Mommy
The Best Ginger Molasses Cookies // Modern Glam
The Best Soft and Chewy Ginger Cookies // The Happy Housie
Orange Glazed Sugar Cookies // Sincerely, Marie
More Christmas baking ideas
Click on the images below for more of my easy Christmas recipes!